VEX Worlds Branding (2022)
For the 2022 competition season, our VEX Graphics team worked to re-brand the "look" of the competition. Each of us submitted several graphics to be considered, and by the end, we had settled on my abstracted wordmark. I combined the bold diagonal slant of the VEX V with the whole shape to create an abstracted VW shape, careful to avoid looking like the Volkswagen logo. Represented in the symbol are red and blue, which represent the VEX Robotics Competition and the VEX IQ Competition, respectively. From this logo, we built outwards and created a branded look for the 2022 VEX Robotics World Championship. 

Wwe developed a modern look for this year that blended our new elements with elements of previous years' world championships, so we could still re-use some of our old signage. After we had created a considerable amount of graphics and established a "look," I assembled common elements into a single document and provided examples in context so that our production team could use these graphics on the stage and in their own work, and with a style guide prepared by another member of the team, we had a package others could use for easy branding. 
One of the biggest things that helped showcase our branding was the t-shirts our volunteers and event staff wore. The shirts had the same designs but accents in different colorways so individuals could be identified based on their role. 
Girl Powered is an international initiative created to promote STEM to girls at a young age through workshops hosted by companies such as Texas Instruments and Google.
On this project, I developed the color scheme for the overall brand and completed the final vector artwork and lockups within the brand's visual language. 
For these Silver Graphis award-winning STEM posters, I contributed to the design production and provided pre-research and copy.
VEX V5 and IQ Kit Content Posters
Each VEX Robotics kit comes with a poster of the kit's contents. Most of these pieces are shown at a 1:1 scale to make finding the correct pieces easier. I took DXF files from the engineers behind the pieces and converted them into usable vector illustrations for these posters and future projects to come. I also designed the layout for each of these posters and organized the content with the users' needs paramount.
VEX Retail STEM Flyer: Steam Roller
I worked with existing VEX Robotics and HEXBUG Retail Brand guidelines and copy to design this STEM flyer for kids to use and learn with as they put together their own VEX Robotics Steam Roller.
EdTech Award Announcement
Working from a sketch drawn by one of my coworkers, I created this set of social assets and web banners to announce VEX GO's EdTech award nominations and award.
VEX Robotics 2021
 Live Remote World Championship
Since the COVID-19 pandemic limited travel to the VEX Robotics World Championship, VEX hosted the virtual VEX Robotics Live Remote World Championships. I contributed to the final design of the social media assets and signage using assets created with the VEX Robotics graphic design team.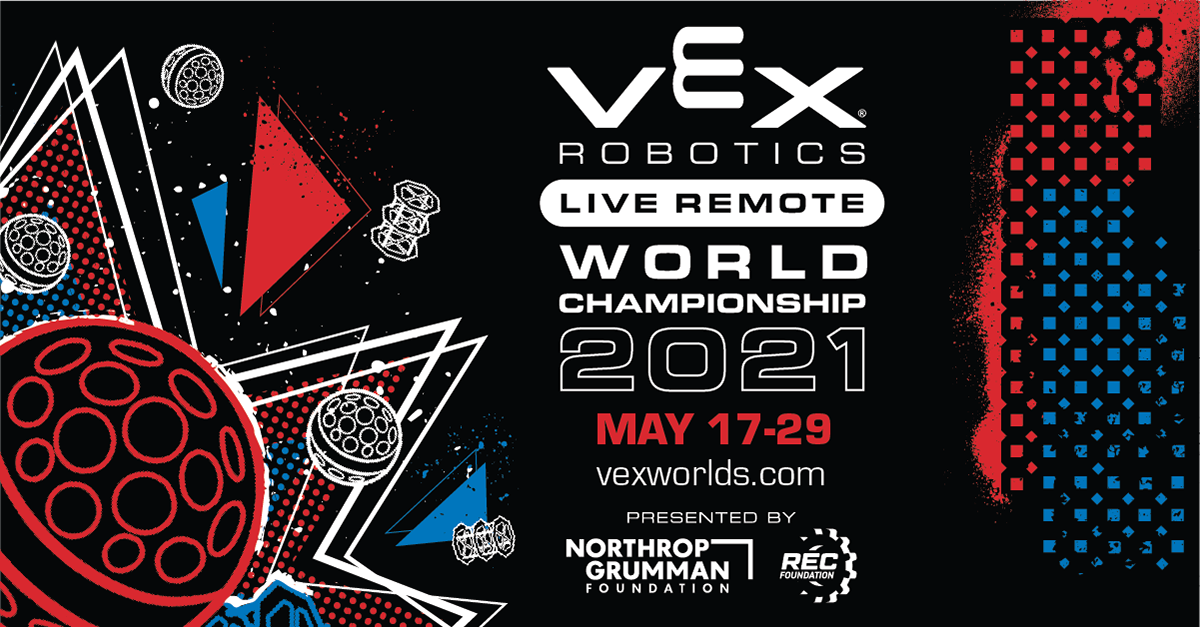 HEXBUG Product Instructions
I edited and stylized DXF images of each product and then organized the layout and regulatory information for these HEXBUG product instructions.
These VEX part rulers feature one of each part sized at a 1:1 scale and organized to fit on letter and A4-sized paper. I contributed to the design and final production.